***FREE SHIPPING*** CANADA (minimum order 100$)
Promo Code : CANADA100
Contemporary frame Art:: "Farmer's Special" PHOTO OF Robert Seguin
Contemporary frame Art:: "Farmer's Special" PHOTO OF Robert Seguin
Contemporary frame Art:: "Farmer's Special" PHOTO OF Robert Seguin
Product not available for online purchase
Little H'ART 14 '' x 11 '' (35.5cm x 28cm),
ART Bordable ..... High quality works at low price.
This unique and original series of my photos printed with Epson pigment inks, on Fine Art Museum quality paper, under a white mat, manually signed and with title.
Frame not included.
Handcrafted in Canada

FARMER SPECIAL

GMC 9300
General Motors Company
In the mid-50's, it will replace the ox and the horse for daily work. It was a bit like the beginning of the big changes in hard work.

Here, this photo was taken during one of our many visits to the beautiful little village of Kamouraska. An ancestral farm, just in front of our obligatory stop at Pêcheries Ouellette, for our sturgeon and smoked eel. Just across the road, this original old red truck parked at the entrance to the farm. Without waiting, I asked the farmer far away in his field, by waving my hand and showing him my camera, permission to photograph this monument.

Four or five shots with my wide angle lens were enough to capture the scene.

In addition, the sky was complicit with its lines of clouds, adding a dynamic and a certain drama, the three silos like a crown to underline this kings accomplice of agriculture of a certain time and two large tractor tires joined behind to complete this scene with rustic vapors.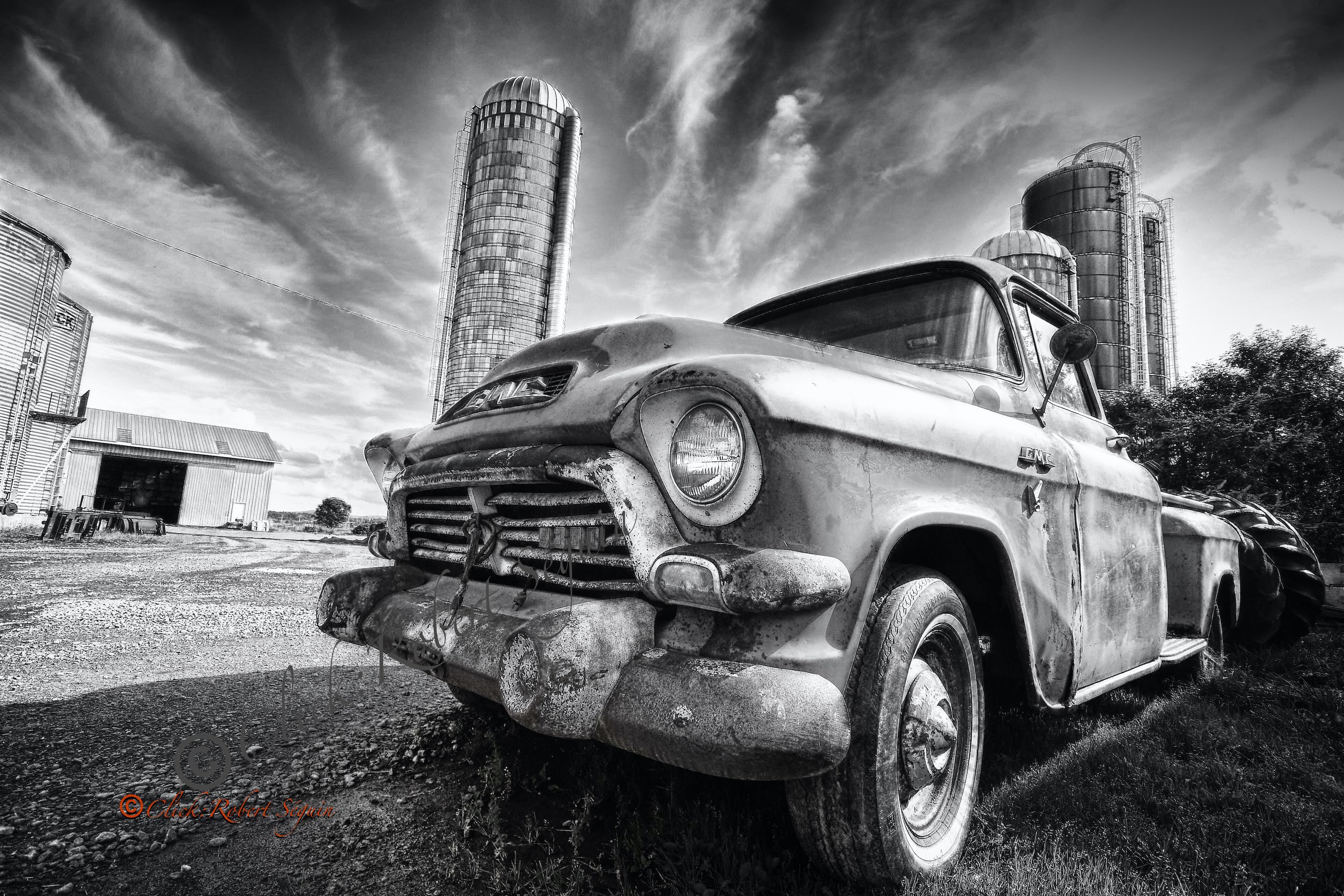 I offer you my high quality works, made locally with the help of passionate artisans, using local products and at prices for all budgets.
Give or treat yourself with a ©Click:Robert Séguin
Another version of the same Click from my Wall m'Art / Exclusive series
Subscribe to our newsletter
---
© 2023 PHOTO CLICK ROBERT SEGUIN All rights reserved.
By visiting our site, you accept the use of cookies to improve the quality of your visit, collect statistics and measure our audience in order to provide you with tailored services and offers.