***FREE SHIPPING*** CANADA (minimum order 100$)
Promo Code : CANADA100
LH/NAT/007 "Feuill'Art"
LH/NAT/007 "Feuill'Art"
Product not available for online purchase
Little H'ART 14'' x 11'' / 35,5cm x 28cm. ART Fordable....... High quality prints at an affordable price. A new unique and original series of my photography prints on a Fine Art quality paper, with a white mat, hand signature and title. Frame not included.
Handcrafted in Canada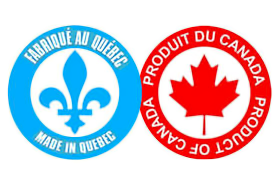 "Feuill'Art" (Google translate)
Against an autumn background,
Like in a cathedral, In front of these natural stained-glass windows,
These rich colors vibrate.
Interspersed with these ebony blacks,
The soft muffles of the winds,
These balms with aromas of undergrowth,
Lift my soul and I dream.
©Robert Séguin
"Feuill'Art" (Google translate)
Here is an artistic photographic approach, the use of a camera as a tool of creation, like a brush for a painter. Different definitions of this method are often debated as to what is "Fine Art photography".
I personally believe that when a photo, either by its subject or by its transformation of retouching using software, that it manages to arouse an emotion, an atmosphere, it becomes Art.
When the final result stops the gaze and time, similar to watching a movie or reading a good book, when the power of creation calls out to its own internal journey and when in front of this work, each person is there finds his own personal emotion, this photo becomes an Art work.
For me there is photography memories of trips or loved ones and timeless artistic photography, "Fine Art".
In the case here of "Feuill'Art", this maple forest in the fall, it is not necessary to know where it is located, the color indicates autumn, but the transformation of this one, I think she carries it above a traditional photo.
And I, to my artistic approach, I add a presentation assembly, a support of wood, cement, metal, etc., to accentuate the atmosphere of it, to find another dimension in harmony, so that 'it becomes a painting. In addition, I add in the form of a Poem, a description of my feelings, my philosophy and my sensitivity.
Subscribe to our newsletter
---
© 2023 PHOTO CLICK ROBERT SEGUIN All rights reserved.
By visiting our site, you accept the use of cookies to improve the quality of your visit, collect statistics and measure our audience in order to provide you with tailored services and offers.