***FREE SHIPPING*** CANADA (minimum order 100$)
Promo Code : CANADA100
Contemporary frame art: "Rancart Hivernal" photo de Robert Seguin
Contemporary frame art: "Rancart Hivernal" photo de Robert Seguin
Contemporary frame art: "Rancart Hivernal" photo de Robert Seguin
Product not available for online purchase

"RANCART HIVERNAL"
Wall art from the '' WALL M'ART 'series for a WALL ART .... / EXCLUSIVE CLICK SERIES

This series offers you unique works by Robert Séguin, known for his Eye, his Written Emotions and his Presentation Montages.

These are works of caliber that can be found in art galleries and in private collections.

Printed with Epson pigment inks, on museum quality Fine Art Archive paper, mounted on a Masonite panel and positioned in a solid black stained Canadian ash frame.

Dimension: 36 "x 36" x 2 '' (92cm x 92cm x 5cm)

Metal signature and personalized certificate of authenticity.
Handcrafted in Canada

"Rancart Hivernal" / "Winter Storage" : Living a void of loneliness.
Under the strong winds of the cold of February, lodged at the bottom of a distant range of Beauce, where the silences and empty spaces as far as the eye can see have become my daily life.

While the lands in hibernation and awaiting new cultures, are swept by the northern squalls, only the crackle of -25 degrees under my feet, accompany the muted blinding luminosities.

Day after day, a void settles, an abandonment to solicitude invades me, the skies are colored with imaginary hues and I wave to wander. While a few shadows crisscross the elusive fields between barbed wire and warped, an almost disturbing song seems to point before the darkness that will cover my way home.

I had lost myself in finding myself, I wondered between pleasure and sadness, life or not, it doesn't matter, the breaths of the horizons were my accomplices, my indifferent friends. Between the pure whites, the showy yellows and the azure blacks, fences separate the pastures, like beacons to limit my thoughts.

Between January and March, the insulation filled a full void.
©Robert Séguin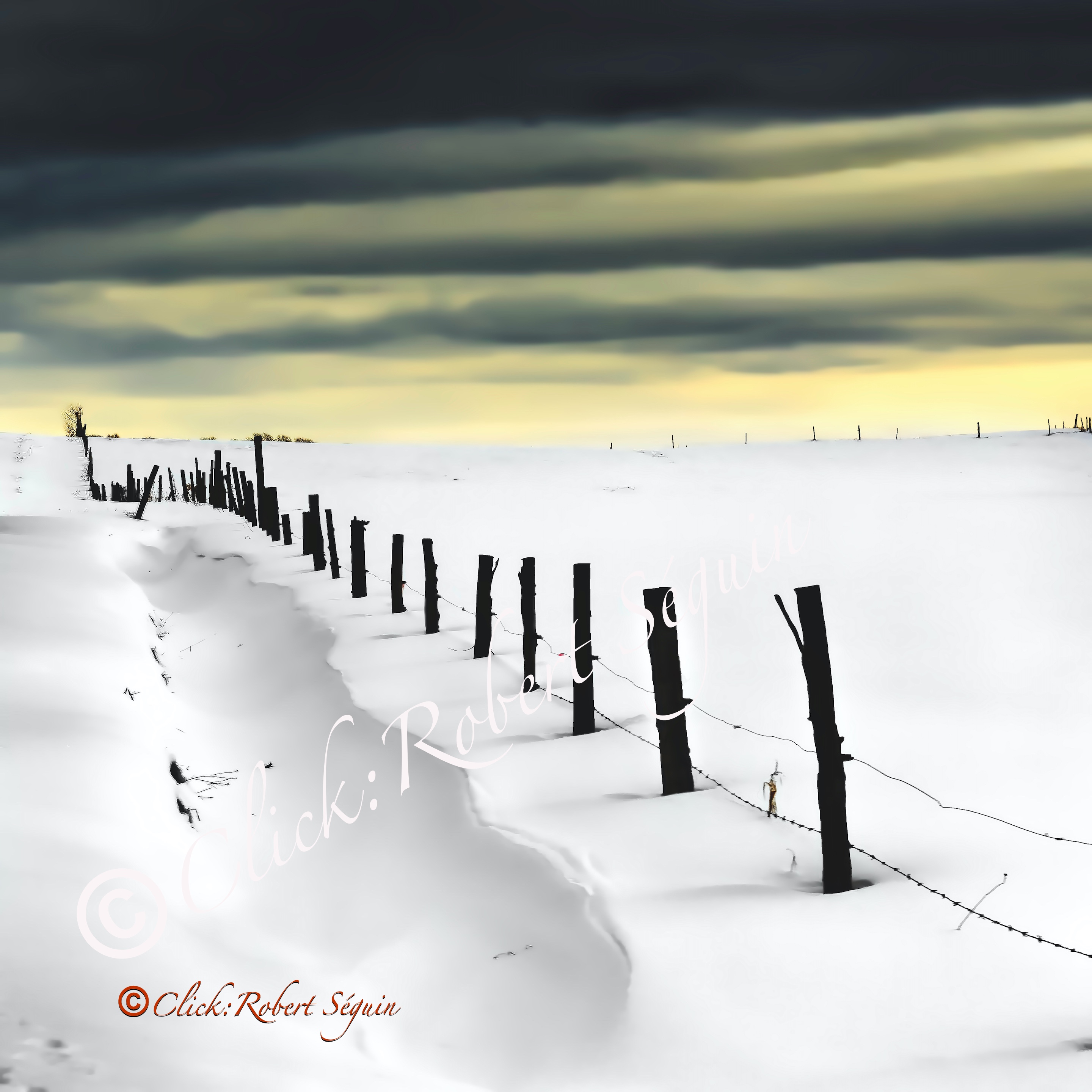 I offer you my high quality works, made locally with the help of passionate artisans, using local products and at prices for all budgets.
Give or treat yourself with a ©Click:Robert Séguin
Subscribe to our newsletter
---
© 2023 PHOTO CLICK ROBERT SEGUIN All rights reserved.
By visiting our site, you accept the use of cookies to improve the quality of your visit, collect statistics and measure our audience in order to provide you with tailored services and offers.