***FREE SHIPPING*** CANADA (minimum order 100$)
Promo Code : CANADA100
Frame contemporary Art: "Idem" Photo of Robert Seguin
Frame contemporary Art: "Idem" Photo of Robert Seguin
Frame contemporary Art: "Idem" Photo of Robert Seguin
Product not available for online purchase

"IDEM"
Wall art from the "WALL M'ART" Series for a WALL ART .... / EXCLUSIVE CLICK SERIES

This series offers you unique works by Robert Séguin, known for his Eye, his written Emotions and his Presentation Montages.

These are works of caliber that can be found in art galleries and in private collections.

This one from my `` FULL METAL '' period

Print on brushed aluminum 22 "x 18" (56cm x 46cm),

Positioned on a solid aluminum plate 1/8 "(0.3cm) 24" x 36 "(61cm x 91cm)

With metal signature and certificate of authenticity included.

Handcrafted in Canada
From my Series "Wall m'Art / Exclusive Click"
Printing on brushed aluminum 22 "x 18" (56cm x 46cm),
Positioned on a solid aluminum plate 1/8 "(0.3cm) 24" x 36 "(61cm x 91cm)
Handcrafted in Canada

"IDEM": an other COPY and PASTE
The beauties of architecture have always fascinated me, over the years I have bought several architectural books, from mini houses to skyscrapers, I often say without regret that if I had to rebuild my life, I would dare architecture. It is all the same the basis of survival, comfort, and more, if the luck smiles, to have to live in a place and a space in its image.

Here, Long Island, facing this eccentric New York, this building had captured my Eye ..... monochrome of green and glass, these aluminum metal structures and these balconies all identical. Like a repetitive brick wall, like a synchronized military march, as Jim Corcoran would say "Lost in the same setting".
For this work, brushed metal was for me the perfect medium for printing, which gives as a result, that all the beams come out silver and that the greenish tones keep their realism, moreover the luminosity that the metal brings all depending from the viewing angle. In addition, it was obvious to me to finalize the assembly on a 1/8 "aluminum plate, to keep the modern contemporary aspect.
©Robert Séguin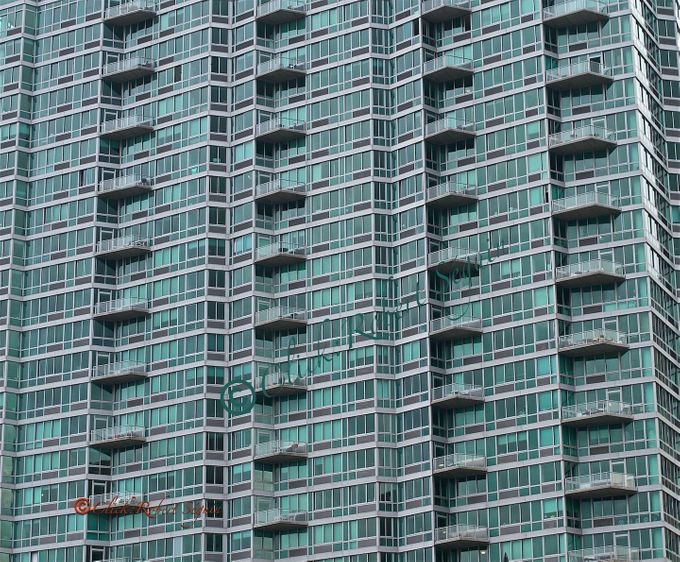 I offer you my high quality works, made locally with the help of passionate artisans, using local products and at prices for all budgets.
Give or treat yourself with a ©Click:Robert Séguin
Subscribe to our newsletter
---
© 2023 PHOTO CLICK ROBERT SEGUIN All rights reserved.
By visiting our site, you accept the use of cookies to improve the quality of your visit, collect statistics and measure our audience in order to provide you with tailored services and offers.